Hay un programa de radio de los mas
geek
del mundo...pero...
LO AMO.
Se llama
"A way with Words"
y se transmite por
KPBS
(ya se que parece que me dan comisión por hacerles publicidad)
y la verdad super rifa...
Domingos 10 AM
kpbs.org
o
97.7 FM
La gente les habla por teléfono y les hacen preguntas sobre
palabras/frases/expresiones/pronunciaciones
en inglés...
Es
neither
(nider)
o
neither
(naider)
?
Tomato
or
Tomato
(tomahto)
?
Two Thousand Six
OR
Two thousand AND six
?
tsss...neta, rifante.

My inner geek trying to get out...

OH WAIT!!!!!

It´s already out!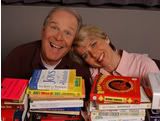 Richard Lederer and Martha Barnette
A Way with Words, airing on Saturdays at noon and rebroadcasting Sundays at 10 a.m. on KPBS Radio, offers a humorous and instructional joy ride through the English language. Authors and language experts Richard Lederer and Martha Barnette host the freewheeling program featuring bloopers, word games, interviews, and calls from word-loving listeners.