Como ustedes saben, que llueva en
Mexicali
es very unusual El caso es que el viernes en la noche hacía mil de frío (nevó en La Rumorosa) y de repente, como a las 11,12 de la noche...empezó a llover...
the
most romantic thing...
Pusimos un DVD que habíamos comprado la semana pasada y que no habiamos visto:
NBA´s 100 greatest plays
.... y estuvo super chilo...
Recordamos aquel juego tan super fabuloso en el que
Reggie Miller
anotó 8 puntos a unos cuantos segundos de terminar el juego
(neta, unbelievable...quedaban como 12 segundos -ya vi bien la nota, fueron 11 segundos- o algo asi y anotó de 3 puntos...se robó la pelota nuevamente y se fue corriendo a la linea de 3 y anotó otro, y le hicieron foul y tuvo dos tiros libres... UN BE LIE VA BLE)

...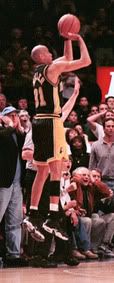 Ese juego fue en New York...chequen la cara de los NY fans...priceless!
recordando a my dear
Charles Barkley
en una ocasión que se iba a salir la pelota de la cancha, con lo que los
Suns
perderían el control de la pelota, asi es que Barkley saltó para salvarlo
(a punto de caerles encima al público de las primeras filas!)
y justo mientras volaba, hizo la seña de tiempo fuera! damn! so smart!

Pasamos años para que me acordara como se llamaba el coach de los Suns! Claro!
Paul Westphal!
y el enojón, claro!
Danny Ainge!
Y como olvidar aquella clavada que hizo
Kevin Johnson
sobre
Patrick Ewing!
increible! si es super mas chaparrito que Ewing...ahhh...
those were the days...
Ahorita ya no siento nada por la
NBA
...at least, not like in the 90´s...
YO
creo que lo que falta ahora son figuras TAN fuertes como había antes, en donde tenías a
Michael Jordan, Charles Barkley, Rodman, Pippen, Stockton, Malone, Robinson, Olajuwon, Starks!, Majerle, etc etc...
O sea, claro que ahorita hay buenos, pero...no tienen esa cualidad tan grande de ídolos como los había en los 90´s ...Yo empecé a engranarme con la
NBA en 1992
(sé que en los 80´s la NBA también fue buenísima, pero no estaba yo engranada en ella...y yo solo hablo de lo que conozco)
...en donde un domingo fabuloso era el que contenía 3 partidos, uno detrás del otro...de preferencia partidos en donde estuvieran involucrados los
Phoenix Suns y los NY Knicks,
pizza y coca light...no se necesitaba nada mas...
The NBA on NBC!
I
love
this game...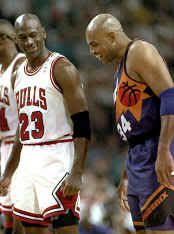 Barkley dijo una vez que Jordan era un super intimidador...que se la pasaba diciéndole a todos "You can´t guard me! You can´t guard me!"


Y como dijo Barkley en su libro: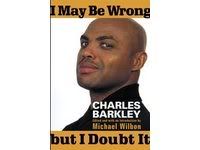 hell, yeah!